The Bluestem Post
The Bluestem Post is a Bluestem-wide quarterly newsletter for residents, participants and constituents.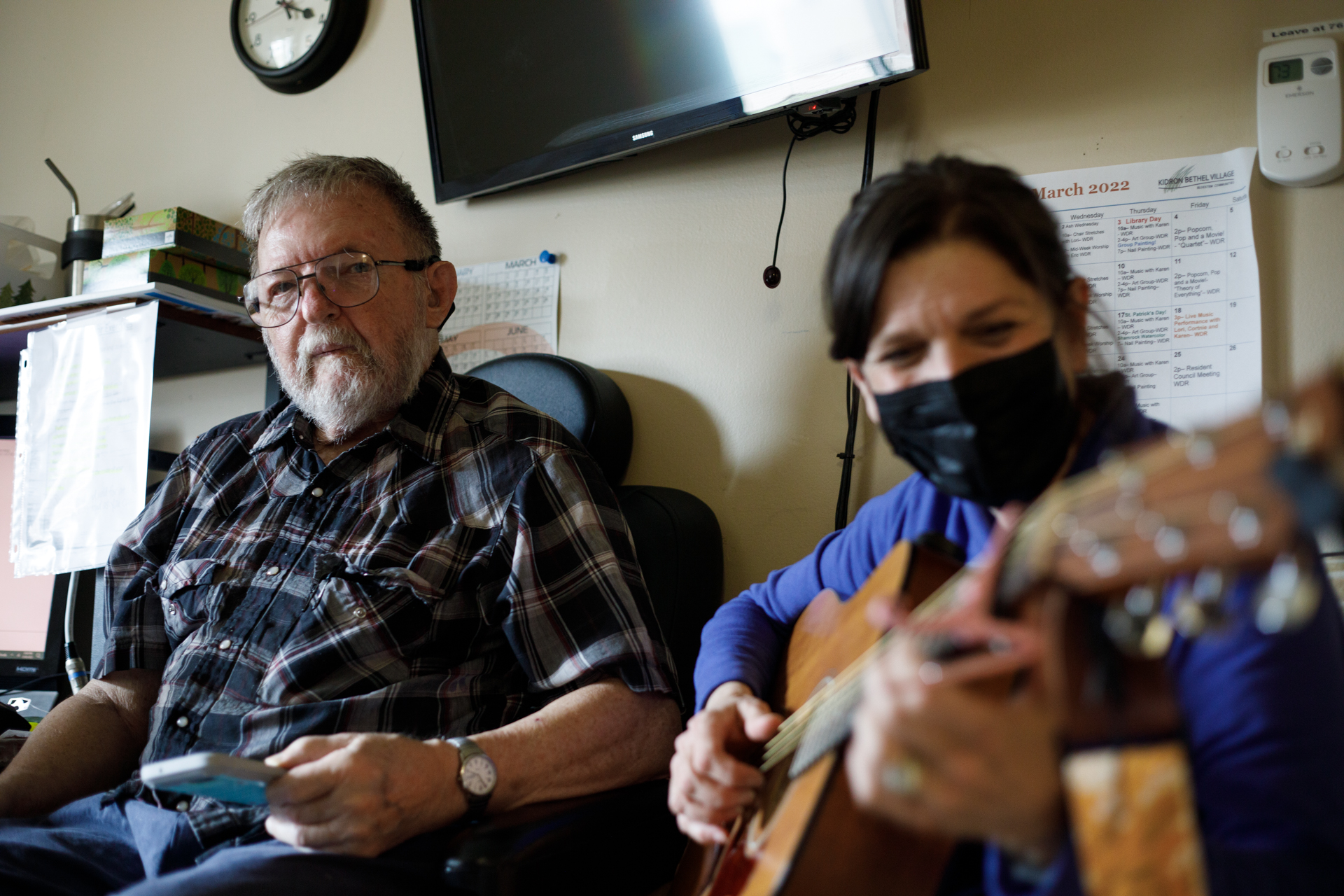 Composing memories
"My God isn't through with me yet.
I don't know what else I will get.
Between you and me,
God's gifts are for free.
My God isn't through with me yet."
Those words from "Gone Away," a poem/song composed by John Schrag and Lori Dreier, are a good reminder of the constant learning and growth that occur all throughout the human experience.
Schrag and Dreier have both been involved in their art forms for many years. Schrag, a resident in health care, writes poetry. Dreier, a life enrichment assistant, writes songs. When they discovered the other's talents through their interactions at Kidron Bethel Village, they found an opportunity to collaborate by turning Schrag's poems into songs.
"I didn't ever think songwriting would be part of my activities work here, but it's been pretty neat," said Dreier. "John had the idea to do this and first brought me his poem 'Storm,' asking if I would want to turn it into a song."
Together the two sat down and worked through Schrag's vision for the poem as a song. When that first one was finished, they moved on to others as well. Each added a new component to the art they were used to creating, presenting themselves and each other with new experiences and challenges.
"I made writing poetry one of my retirement goals," said Schrag, who began writing poetry as a hobby prior to retirement, and who, for many years, wrote a poem every day.
Over the years, he's had his poems compiled into two books, and continues to write as he feels inspired. His inspiration comes from his own life experiences and the things he sees around him every day – from the mundane to the profound.
"John is very prolific about writing and sends me new poems weekly," said Dreier.
Dreier started writing and performing music in her 20s. She spent many years playing in a variety of settings – churches, festivals, clubs, restaurants and more. In her role as Life Enrichment Assistant, she regularly plays guitar and sings for midweek worship services and weekly sing-a-longs.
"When I write songs, words are harder for me to come by than the music is," said Dreier. "It's been a pleasure to work with John and see him come up with the words I would have never thought of."
Now the two get together weekly to work on their project. Sometimes they start from poems Schrag has written in the past and revisit them with music Dreier imagines through Schrag's explanations of the tone and message of the poem. Other times, they have an idea for a topic and work separately to create words and music.
"I told John I would like to write a song about water and wine," said Dreier. "He came up with a title – 'The Wine at the Wedding' – then we both wrote our pieces separately. When we came back together, John also had a melody in mind for the words he had written, so we ended up with two different songs."
Aside from a new way of challenging and developing their art forms, both Schrag and Dreier are grateful for the relationship that has grown out of the process of working together.
"It's been so meaningful and enjoyable to consider the writing process from someone else's perspective," said Dreier.
"It's broadened my thinking," agreed Schrag.

Detailed practice
Ramon Carlson pays attention to the smallest details. For much of his life, his hobbies have been ones the include very small details, but ones that bring his art forms to life.
Carlson's home at Lakeside Village is filled with beautiful and intricate pieces he has created through both his woodworking and stained-glass hobbies. Each piece displays precision, patience and artistry. Though his health has kept him from practicing his hobbies in recent years, each piece is also a good memory of the work he loved to do.
Woodworking is a skill that was passed down to Carlson from his own father, who made grandfather clocks. Partnered with three years of industrial training in high school, Carlson soon adopted the hobby as his own. Through the years, he built furniture pieces, a varied fleet of trucks and more.
"I did this [woodworking] for a long time," Carlson said. "I learned a lot of it in high school, and my dad had tools I could use, so I would just fill my extra time with it."
The trucks he has built are made from cherry wood. The frame of each truck is constructed from a pattern and the wheels were purchased a craft stores, but the extra details that make each piece come to life are of Carlson's own creation.
"I would work on the trucks on my days off and in the evenings, and each one could be completed in a week or two," Carlson said. "I made one for each of my kids and grandkids, and others were purchased by people who saw them and liked them."
He says logging trucks always proved to be especially popular.
Carlson and his wife, Mary Lou, lived north of Hutchinson and ran and dairy for 20 years. They eventually sold the business and moved to Arkansas where they sold real estate. The couple moved to Schowalter Villa about seven years ago. Mary Lou passed away in 2016.
While living in Arkansas, Carlson added stained glass to his list of hobbies. Working with tiny and delicate wood pieces made for a seamless transition into glass work as well.
"I took lessons in stained glass from a guy who did wonderful work," said Carlson. "He said I was a natural."
With both hobbies, Carlson says there are quite a few cycles to the process, and patience and persistence were key in creating the vision he had in mind.
Though he is no longer practicing his art forms, Carlson says he finds other ways to stay busy, and at 86 years old is committed to doing what it takes to remain healthy.
Carlson gifted a couple of stained-glass pieces to Schowalter Villa, which are now displayed in the windows of the garden level resident lounge.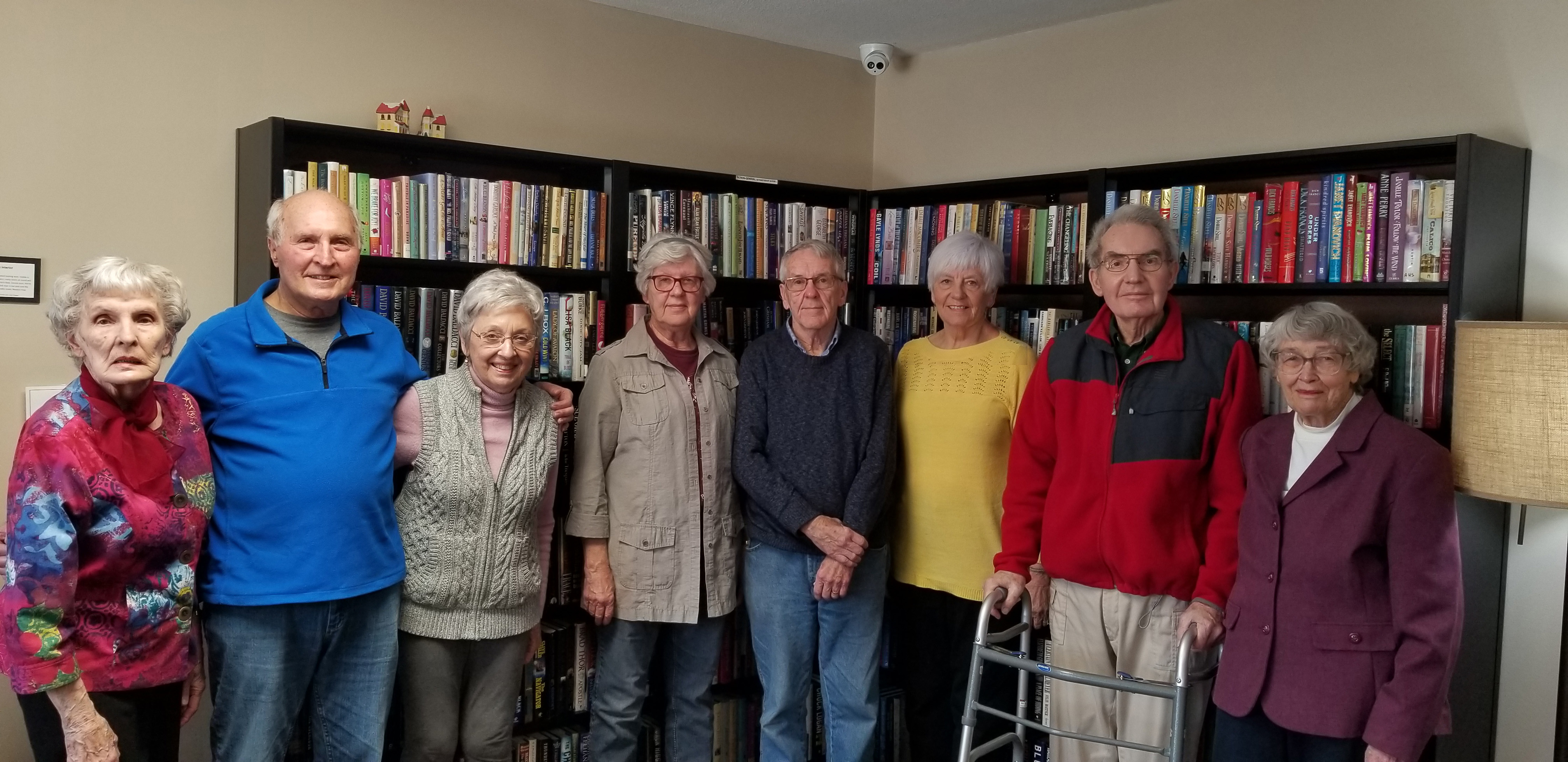 Family ties
The five Goering siblings – Josephine, Jim, Homer, Helen and Vernon – grew up together on the family wheat and dairy farm in Pretty Prairie, Kansas. As they grew, they each left home – first attending Bethel College, as it was their father's wish that they attend a Christian college for at least one year – before finding their direction in life and spreading out across the country.
Now, in retirement, they have all come to live in the same community again – this time at Kidron Bethel Village.
Helen Nachtigal and her husband, Frank, who passed away in 2020, were the first of the siblings to come to Kidron Bethel 11 years ago.
"We did a lot of volunteering – particularly at YMCA of the Rockies in Colorado – so we were away from home quite a bit," said Helen. "We liked Kidron Bethel because we liked the idea of having someone to look after our home when we were away."
A few years later, sister Josephine Schmidt and her husband, Richard, who passed away in 2019, moved on to campus. Over the next several years, the remaining siblings – Jim and Shirley Goering, Vern and Jane Goering, and Homer and Mary Goering each found their way to Kidron Bethel as well.
"We never planned that we would all move to the same place," said Homer. "We lived in different states and countries, but all had different connections and circumstances that brought us here."
Even with their farm background, none of the siblings stayed in Pretty Prairie, and none of them pursued agriculture as a career. Jim did keep ownership of the family farm for many years and leased it to other farmers for use.
Yet one connection that kept surfacing as the siblings considered where to move in retirement was that they already had siblings living at Kidron Bethel. In a way, it was a bit like returning home.
After many decades of only seeing each other sporadically and for special occasions, the siblings and their spouses are enjoying being close to one another again.
Before the pandemic inserted itself into the normal flow of life, the group used to meet once every two weeks – always with food as the centerpiece. Sometimes they would have planned topics to discuss – poetry or music or inventions – and sometimes they would just share about their lives. They look forward to being able to resume more frequent gatherings again as safety and distancing guidelines allow.
In spite of the pandemic, they find ways to stay connected. Vern and Homer have attended nearly every home Bethel Thresher basketball game this season, and on the day they all gathered to share for this story, Helen, who has earned herself the title of the "entertainer," had prepared a meal for each of her siblings to be delivered later.
When they are gathered, the sibling banter comes easily and naturally. They reminisced on their growing up years on the farm where they all learned to milk cows the old-fashioned way at a young age, and recalled the chores that needed to be done.
"Some were hard workers and some weren't," teased Vern, as Helen recalled suddenly becoming very interested in practicing piano when it came time to wash the dishes.
A lifetime of careers and experiences took them in many different directions, but it seems they have come full-circle back at Kidron Bethel Village. They all noted the benefits of living here and are glad they chose this community to become their home.
Note: Jim Goering passed away in April 2022.