Get Creative
Indulge your creative side and enjoy the visual arts activities and features that Bluestem Communities has to offer.
Pottery Classes
Bluestem Wellness Center in Hesston
Come enjoy a welcoming and low-stress setting to learn about throwing pottery on the wheel and hand-building with clay. All skill and mobility levels are welcome. Students will complete 3-4 projects using a variety of techniques (coiling, slab, extruded forms, wheel throwing). We will glaze and fire your pieces for you and you will be notified when they are ready to be picked up. Turnaround time is approximately 3 weeks.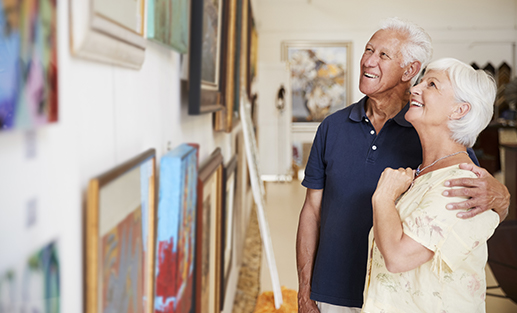 Class size is limited so please register early! Payment is due in full at registration to reserve your spot. Min 3 / Max 5
Registration deadline: 1 week before start of class
Guest Instructor: Brittny Goertznowsky
What to bring to class: Towel, apron
March 15 - April 12 (choose morning or evening classes)
Thursdays: 10 am - 12 pm | 6:30 - 8:30 pm
April 19 - May 17
Thursdays: 10 am - 12 pm | 6:30 - 8:30 pm
$75 members / $85 non-members
Cost includes instruction, clay, use of basic studio tools, glaze and firings.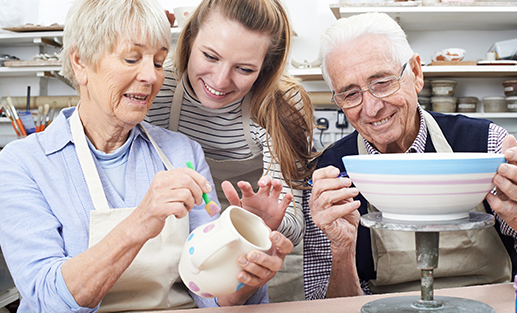 Walkabout Gallery
The indoor walking path in the Bluestem Wellness center in Hesston has a rotating art gallery along the walls of the indoor walking path. Residents and community members enjoy viewing the art as they stroll the walking path.
Local artists are featured each month in the gallery, some being our own Bluestem Communities residents and staff members.
If you are an artists and would like to be featured in our Walkabout Gallery, call 620-327-2323.