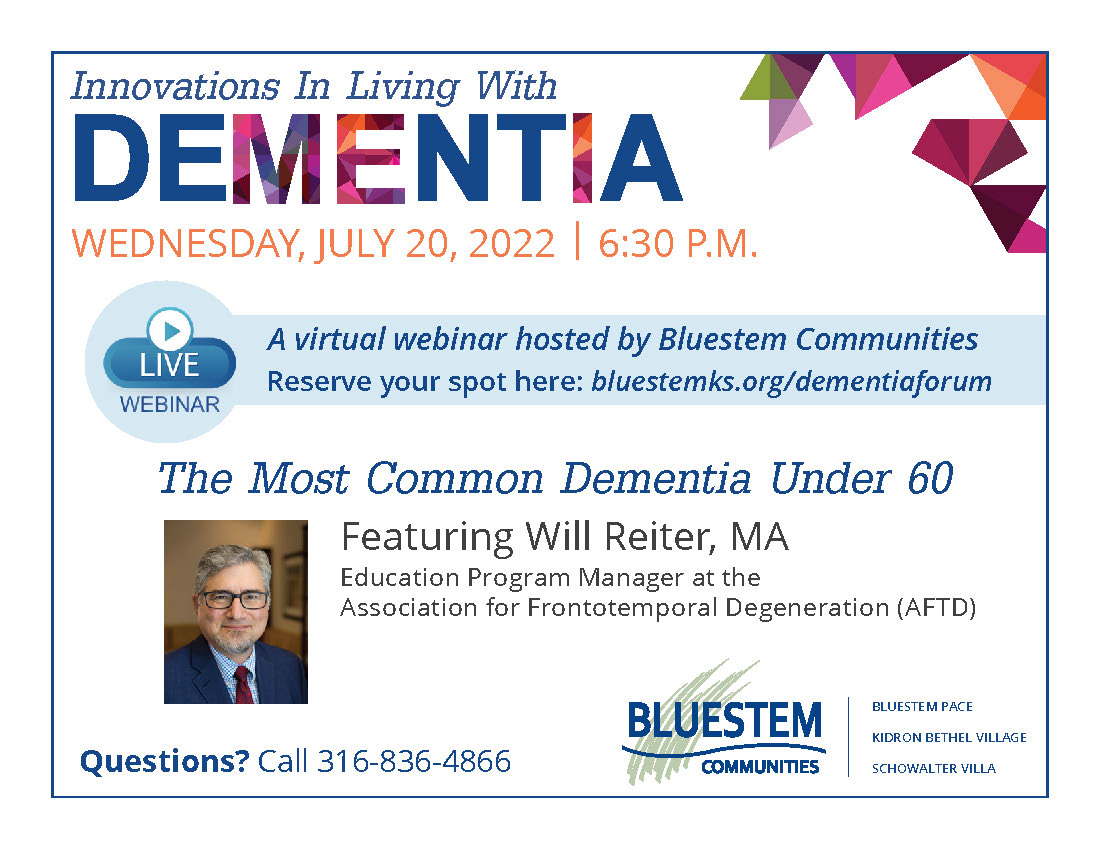 Annual forum to focus on a misunderstood form of dementia
July, 11, 2022
NORTH NEWTON, Kan. – Bluestem Communities will host its annual Innovations in Living with Dementia community forum through an online webinar at 6:30 p.m., Wednesday, July 20. Registration and participation are free. Pre-registration is required and spots are limited. Register at bluestemks.org/dementiaforum.
The evening's presentation is "The Most Common Dementia Under 60" by Will Reiter, MA, Education Program Manager at the Association for Frontotemporal Degeneration (AFTD). Frontotemporal degeneration (FTD) is the most common dementia for people under 60. Instead of memory loss, the initial symptoms affect behavior, personality, communication or movement.
The Alzheimer's Association reports that 16.1 million Americans provide unpaid care for people with Alzheimer's or other dementias. As such, the Innovations in Living with Dementia forum is designed for anyone providing care for someone living with dementia, both professional caregivers and family or friends.
Reiter has worked in the dementia field for more than 25 years. In his current role, he strengthens relationships with medical clinicians and professional care providers to expand awareness of frontotemporal degeneration and increase early diagnosis and access to quality care.
One continuing education unit (CEU) approved by the State of Kansas is available for attending the presentation for those who desire it. The CEU cost is $15. Registration for the CEU can be found at bluestemks.org/dementiaforum.
###
About Bluestem Communities
Bluestem Communities is a nonprofit life plan organization in south central Kansas with communities that offer various living options, care settings and care-centered services for seniors. Visit bluestemks.org.