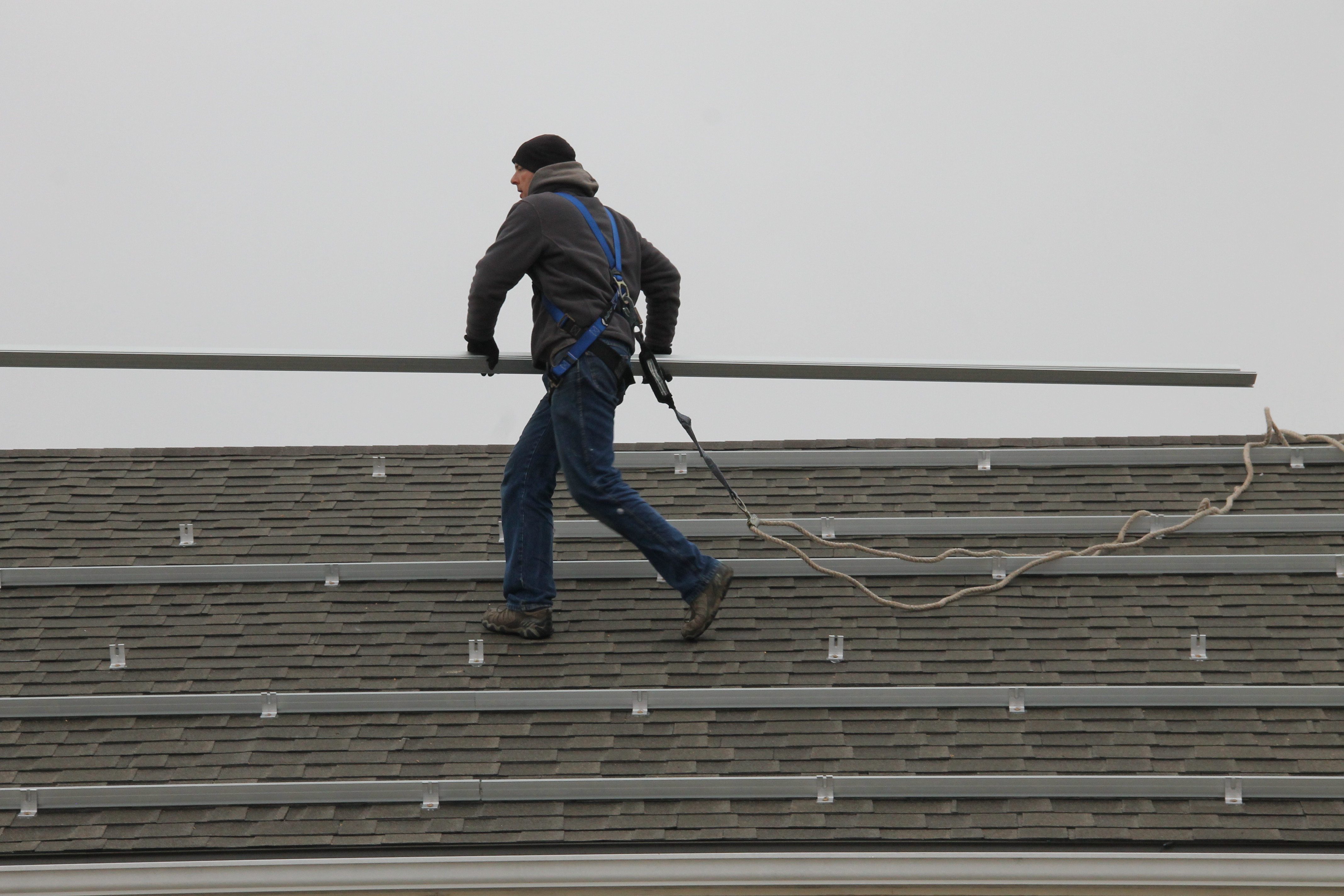 Kidron Bethel Village Reducing Carbon Footprint with Solar Panels
January, 25, 2019
NORTH NEWTON—To kick-off 2019, the Bluestem community of Kidron Bethel Village will be installing 97 solar panels on its southwest facing carport. The panels will significantly reduce the retirement community's carbon emissions.
Thanks to an anonymous donor, the purchase and installation of the solar panels will be at no cost to Kidron Bethel Village.
"We are incredibly thankful for this generous donation," said James Krehbiel, President/CEO of Bluestem Communities. "It is not only benefitting Kidron Bethel Village, but our environment and community as a whole. The impact of this gift will be felt for many years to come."
Environmentalism, sometimes referred to as creation care, is a value that Kidron Bethel Village has adopted and plans to continue to keep at the forefront as leadership plans for the future.
"It is our hope that the installation of these panels is just the first step in many more steps to come as we continue to work to reduce our environmental impact. We want to become greener and keep creation care top-of-mind in our community and in the way we operate," said Linda Peters, Kidron Bethel Village's executive director.
Dr. Nelson Kilmer is part of Kidron Bethel Village's creation care committee, which was formed a little over a year ago. Kilmer taught science and math courses at Hesston College for 46 years and is a local expert on solar energy. The retired professor explained that Kidron Bethel Village's new solar panel system will last about 30-35 years. During that span of time, the system will save the community an estimated total of $200,000 in electricity costs. More importantly, carbon emissions will be reduced by 28 tons per year for an estimated total reduction of 900 tons of CO2 over the life of the solar system.
"A solar system is good economically and environmentally," said Kilmer. "You win two ways when you install one. You can save money and reduce pollution."
According to Kilmer, the EPA reports the local power company produces 1.4 pounds of carbon dioxide emissions/KWH of electricity produced. As a result of the solar panel installation, the power plant will be burning less coal to produce electricity for Kidron Bethel Village, therefore reducing the emissions by 28 tons per year.
"When emissions are released into the air, it pollutes the air and has a warming effect on the Earth," said Kilmer. "Locally, summers are getting longer and it is affecting the farming industry. Any reduction of emissions helps."
King Solar, based out of Yoder, KS, will be doing the installation of the solar panels in late January. The company has installed systems for a few other local businesses including the Mennonite Central Committee office and Prairie Harvest.
Mark Horst, owner of King Solar, said the panels are designed to withstand one inch hail and the strong Kansas wind.
"Basically, if the roof is still attached to the building after a storm then the solar panels will be attached too," said Horst.
The steps that Kidron Bethel Village is taking to become more environmentally friendly is a response to what the public and current residents have expressed they want to see in a retirement community.
"At Kidron Bethel Village, and Bluestem Communities as a whole, we want to continue to be innovative and creative as we grow and respond to what is happening in the world around us. Becoming more green and creating a creation care committee is a direct response to what the community and our residents are asking for," said Krehbiel. "We want to continue to stay environmentally conscience and give residents who live in our communities the chance to do that as well. The impact effects generations to come."
###