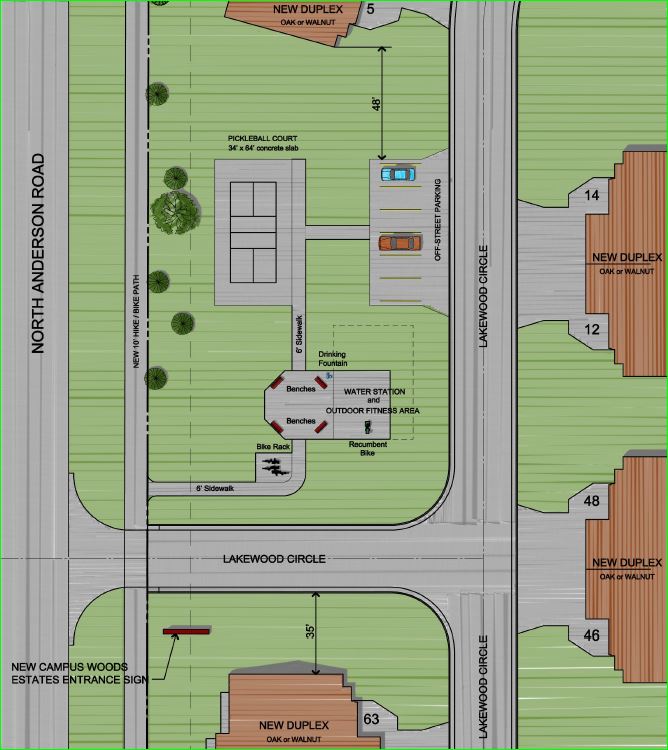 Bluestem Communities Expanding in North Newton; Adding homes and new recreational opportunities for the community
June, 11, 2018
North Newton - This week, Bluestem Communities announced a plan to expand Campus Woods Estates at Kidron Bethel Village in North Newton. The expansion will focus on the Lakewood Circle development in Campus Woods and will include new independent living home lots, a community recreational facility and a new entrance on Anderson Avenue.
The Lakewood Circle expansion project will double the lots available to build by adding 8 new duplex lots (16 homes) to the neighborhood and a new recreational area including pickleball court and rest area along the planned expansion of the North Newton Trail. Once the Lakewood Circle project is complete, there will be a total of 12 ready to build lots (24 homes) in Campus Woods Estates to add to the existing 23 homes in the neighborhood. The homes will offer a new floor plan option along with choices for different square footages and price points.
"We are excited to offer expanded living options as well as new and exciting recreational opportunities to the community," said James Krehbiel, President and CEO, Bluestem Communities. "The North Newton Trails project offers the perfect timing to expand our campus, connect our residents to the larger community and provide one-of-a-kind recreation and health benefits to North Newton residents and surrounding communities."
The North Newton Trails project was announced last fall and is expected to be completed in 2019. The Trails project is funded by a transportation alternative grant from the Kansas Department of Transportation and the City of North Newton. The trails project includes approximately 1.3 miles of new trail system extending north from 30th street, continuing north behind the North Woods Plaza (Everence) building, west to Anderson Avenue and then south to the Campus Woods Estate neighborhood.