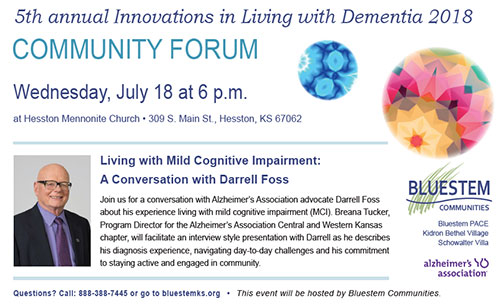 Bluestem Communities Hosts 5th Annual Community Dementia Forum
July, 17, 2018
HESSTON, KANSAS—Bluestem Communities is hosting its 5th annual Innovations in Living with Dementia Community Forum in partnership with the Alzheimer's Association on July 18 at 6 p.m. The event is free to the public and will facilitate a conversation on how to live well with dementia and provide resources for families and caregivers.
The event will feature interactive booths, resources for caregivers and a Q&A session with experts in the area. Special guest Darrell Foss, Alzheimer's Association advocate, will talk about his personal experience living with a form of dementia and describe his diagnosis, day-to-day challenges and his commitment to staying active and engaged in the community.
Bluestem Communities recognizes the importance of providing resources to the public about this prevalent disease. The Alzheimer's Association reports that one in three seniors will die with Alzheimer's or another form of dementia. In addition, 16.1 million Americans provide unpaid care for people with Alzheimer's or other dementias.
Community Dementia Forum – FREE TO PUBLIC
Wednesday, July 18
6:00 p.m.
Hesston Mennonite Church
309 S. Main, Hesston, KS