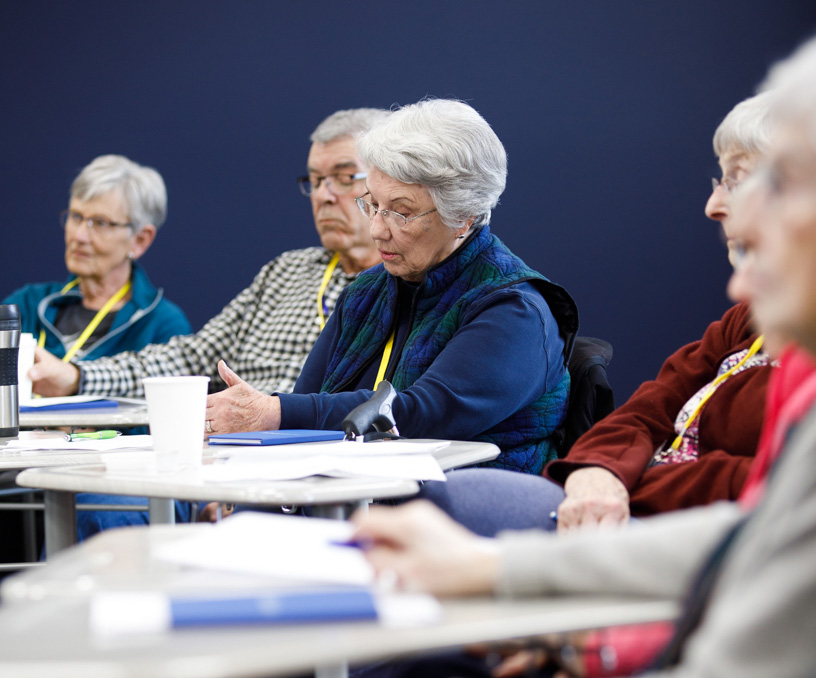 Bluestem U preparing for new year: Classes begin in September
August, 30, 2023
Photo caption: Students in a spring 2023 Bluestem U course engage in discussion. The new fall 2023 semester of Bluestem U lifelong learning program kicks off in September with registration open now for individuals age 55 and better. Photo by Gavin Peters.
NORTH NEWTON, Kan. – Following a successful inaugural year, Bluestem U lifelong learning program is preparing for the fall semester of its second year beginning in September.
Bluestem U is a partnership program between Bluestem Communities, a nonprofit organization that serves seniors through various living options and care-centered services, and its local higher education neighbors, Bethel College and Hesston College. Short-term courses are offered community-wide to those that are age 55 and better.
"Continued learning experiences are so important to every person's quality of life regardless of age and in keeping sharp both mentally and physically," said Julie Miller, Bluestem Communities' Lifelong Learning Program Manager. "We were so pleased with the way this new program was embraced in its first year, and we look forward to offering more engaging classes to the community in year two."
The fall 2023 semester will feature two courses. Each course is $50. More information and registration can be found at bluestemu.org.
"Music Through the Ages" will be taught by Ken Rodgers, music faculty member at Hesston College. The course will journey through the history of western classical music and highlight stories of the composers and musicians who created great art illustrated through their music. The course will meet weekly on Tuesdays from 1 to 2:30 p.m., from September 12 through October 17, at the Schowalter Villa chapel in Hesston.
"Oops, We Got Here Again! Communication and Conflict" will be taught by Kevin Wilder, former Hesston College psychology and Bible instructor and current Bluestem Communities Director of Fund Advancement for Schowalter Villa. The course will discuss theories about conflict and explore a communication tool that is meant to help with the communication process and connect to day-to-day relationships. The course will meet weekly on Thursdays from 10 to 11:30 a.m., from September 14 through October 12, at the Mullet Place Theater in Hesston.
In its first year, the 2022-23 year, Bluestem U enrolled 95 participants over its two semesters. Participants came from communities throughout Harvey, Butler, Sedgwick, Reno and McPherson counties.
"Bluestem U is the best thing to happen recently in our community," said Marjean Harris, a participant during the spring 2023 semester.
For more information and to register, visit bluestemu.org or call 316-836-4846.
###
About Bluestem Communities
Bluestem Communities is a nonprofit organization in south central Kansas that serves seniors through various living options, care settings and care-centered services. Visit bluestemks.org.