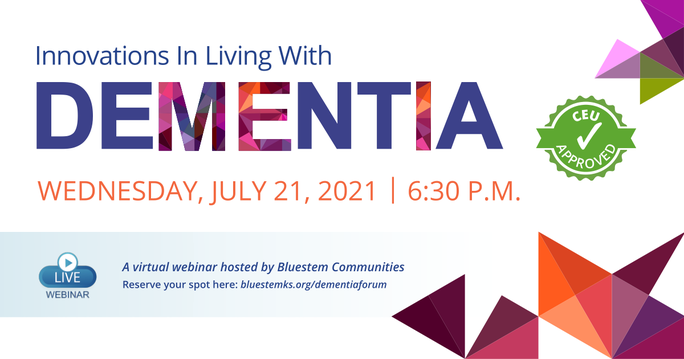 Dementia educator to present online community forum
July, 13, 2021
NORTH NEWTON, Kan. – Nationally-known dementia educator and dementia communication coach Erin Bonitto will present at Bluestem Communities' annual Innovations in Living with Dementia community forum. The free online event will be at 6:30 p.m., Wednesday, July 21.
Bonitto's presentation, "I Already Told You…Don't You Remember?: Understanding Memory Loss, Dementia and Dementia Communication," will help participants focus on what the person with Alzheimer's Disease or other dementia needs their caregivers to know. Pre-registration is required, and spots are limited. One Continuing Education Unit (CEU) approved by the State of Kansas is also available for $15 for those who desire it. Register at bluestemks.org/dementiaforum.
The Alzheimer's Association reports that 16.1 million Americans provide unpaid care for people with Alzheimer's or other dementias. As such, the Innovations in Living with Dementia forum is designed for anyone providing care for someone living with dementia, both professional caregivers and family or friends.
The evening's presenter, Bonitto, is an expert in dementia care and communication, as well as the founder of Gemini Consulting and innovator of Life Enrichment Systems for Dementia, a dementia education, programming and skill coaching framework.
###
About Bluestem Communities
Bluestem Communities is a nonprofit organization in central Kansas made up of several retirement communities and programs dedicated to serving those 55 and better. For more information, visit bluestemks.org.