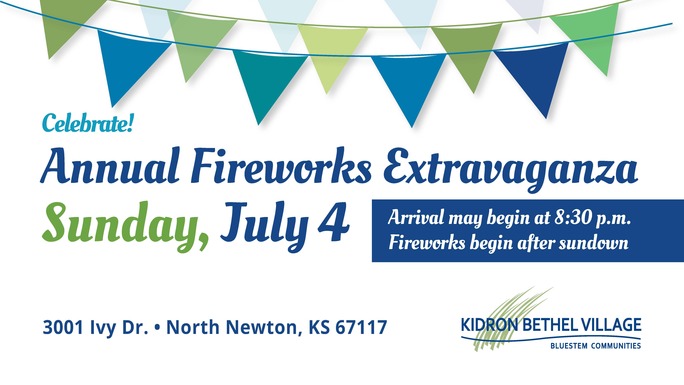 Fourth of July fireworks show returns to Kidron Bethel Village
June, 22, 2021
NORTH NEWTON, Kan. — The community is invited to celebrate the Fourth of July at Kidron Bethel Village's Annual Fireworks Extravaganza with arrival beginning at 8:30 p.m.
Due to COVID precautions, the event will be scaled down from previous years and will be outdoors only, featuring just the fireworks show that will begin after sundown. Salted Creamery ice cream will be available for purchase. Organizers request physical distancing to be observed and for individuals who are unvaccinated to wear masks.
"We love hosting the Fireworks Extravaganza and seeing the community connect with Kidron Bethel Village," said Linda Peters, Kidron Bethel Village executive director. "Because of COVID, last year's event was not able to happen, so we are excited to revive the tradition this year."
Several local businesses have partnered with Kidron Bethel Village to sponsor this event, including Adrian & Pankratz Attorneys at Law, The Breadbasket, Conrade Insurance Group, Empower Physical Therapy, Ford Hearing Aid & Audiology, Furniture Warehouse, Harvey Drug, Hillsboro Hometown Pharmacy, INTRUST Bank, Union State Bank and Vogts Construction Company.
"We are grateful to the partnership of community sponsors to make this fun event possible for Kidron Bethel residents and the wider community," said Derek Yoder, Bluestem Communities vice president of fund advancement.
Kidron Bethel Village is located at 3001 Ivy Drive in North Newton. Parking for the event will be marked. Lawn chairs are recommended for fireworks viewing. Flashlights may be helpful for navigating to and from parking areas. There is no admission charge.
For more information, visit the Kidron Bethel Village Facebook page.