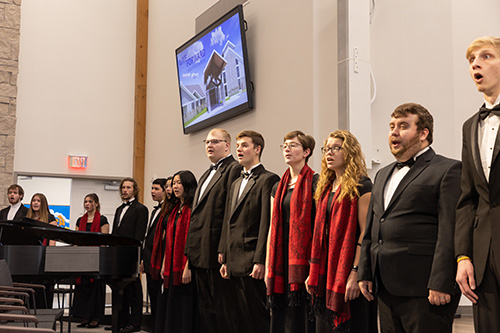 Kidron Bethel Village officially reveals and dedicates new spaces
February, 20, 2023
Photo caption – Kidron Bethel-31: Former Kidron Bethel Village chaplain Eric Massanari offers a blessing of dedication for the newly constructed areas of campus, including the Kidron Hall chapel and community space. Photo by Hutton Construction.
Photo caption – Kidron Bethel-29: The Bethel College Concert Choir, under the direction of Dr. Henry Waters, offer a song of blessing during the Live Forward dedication ceremony. Bethel College collaborated with Kidron Bethel Village on the Kaye Penner Education Center, which will provide a space for intergenerational interactions. Photo by Hutton Construction.
NORTH NEWTON, Kan. — Seven years after Kidron Bethel Village staff had their first official conversations around dreams, goals and growth opportunities for the life plan community, more than 300 residents, staff, community members and other supporters gathered to dedicate and celebrate the result of those conversations.
Kidron Bethel Village, a life plan campus of Bluestem Communities, revealed and dedicated its new and renovated spaces part of the Live Forward capital campaign on February 16. The comprehensive $10.7 million project included new construction and upgrades of existing spaces that impacted nearly 50,000 square feet of the Kidron Bethel Village main building.
"Seven years ago, we recognized that while we were an active and thriving community, there was opportunity to be better," said Linda Peters, Kidron Bethel Village Executive Director. "We made great effort to reach out and connect with our stakeholders, including Kidron Bethel Village staff, board members, residents and family members, residents of the larger North Newton and Newton communities, business and government leaders, and Bethel College staff and faculty. We wanted to know what was important to each group and how we, as a life plan community, could be a better and more engaged neighbor."
Conversations with those stakeholders identified needs for community gathering spaces, collaboration and connectivity with the wider community and more comfortable and welcoming spaces. These ideas were realized and recognized in what are now highlights of the project. The new Kaye Penner Education Center was created in partnership with neighboring Bethel College to promote intergenerational interaction between the two campuses. The new Kidron Hall addition created a larger resident chapel and gathering space for both the internal and external communities to use. There is also a new modern entry and reception area, improved dining options, outdoor patio and courtyards, a therapeutic indoor/outdoor walking loop that connects three health care neighborhoods and remodeled health care rooms.
Following the dedication ceremony, residents and guests toured the new spaces. The new on-campus restaurant, The Local Table, which will open later this spring, served light refreshments from the vendors with whom it will partner for menu offerings.
Construction on the Live Forward project began in summer 2020 with a new therapy gym. Groundbreaking for the newest completed areas began in October 2021. The project has been done in phases, so some areas have been completed for some time while others remain in an on-going state. On-going projects include the remodel of all health care rooms and the completion of The Local Table restaurant.
"We are grateful to have these new beautiful spaces for our residents and the wider community to enjoy," said James Krehbiel, Bluestem Communities President and CEO. "We look forward to the coming opportunities for the community to gather here."
###
About Bluestem Communities
Bluestem Communities is a nonprofit organization in south central Kansas that serves seniors through various living options, care settings and care-centered services. Visit bluestemks.org.