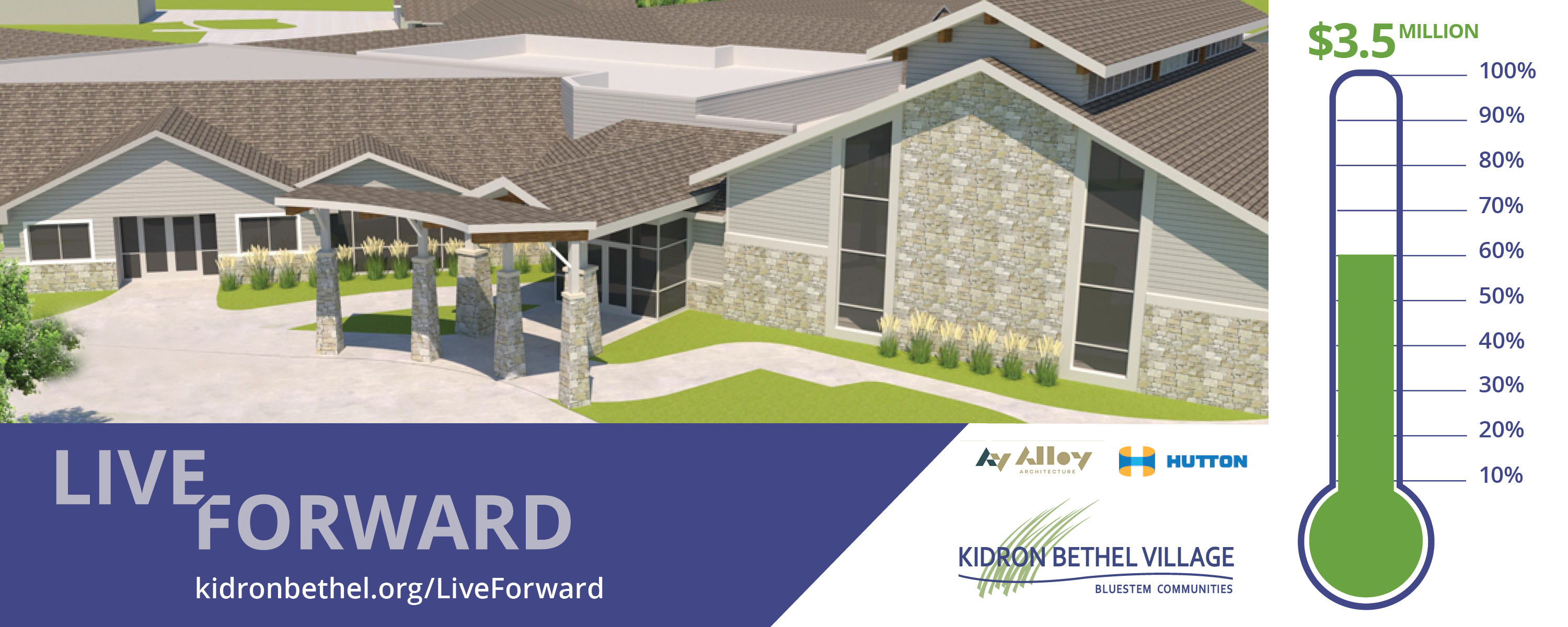 Kidron Bethel Village launches capital campaign with benefits for whole community
November, 04, 2020
Kidron Bethel Village launches capital campaign with benefits for whole community
NORTH NEWTON, KANSAS—Kidron Bethel Village, a Bluestem Community, announces the public launch of a $3.5 million capital campaign that will provide benefits and expanded services to both its residents and the broader community.
Kidron was awarded a $700,000 challenge grant from the J.E. and L.E. Mabee Foundation in Tulsa, Okla. This support is added to the initial 40 percent raised prior to applying for the Mabee Foundation grant.
"We are grateful to the Mabee Foundation for its tremendous support of the Live Forward campaign that will impact our community in so many ways," said Bluestem CEO and President James Krehbiel. "This innovative project is the most significant capital endeavor in Kidron's history, and will create solutions to address current and future needs while offering benefits for the broader community."
The Live Forward campaign of $3.5 million is part of a larger $10 million comprehensive campus enhancement. The project will impact nearly 50,000 square feet to create spaces for community learning and connections, increase intergenerational interactions, provide serene and relaxing common areas and remodel current facilities. The project includes upgrades of existing spaces and new construction, and will be funded both internally and through the $3.5 million campaign efforts.
Highlights include a new education center that also serves as a storm shelter, expanded chapel and community space, a modern entry with reception area, improved dining options, outdoor patio and courtyards, a therapeutic indoor/outdoor walking loop that connects three health care neighborhoods, remodeled health care rooms, enhanced dementia care services and environmental initiatives that include solar power, native landscaping and electric charging stations.
The campus enhancements were prioritized by leadership following interviews with approximately 250 residents, community members, potential future residents and staff.
"The process was very inclusive and brought some extremely helpful ideas to focus on in our planning," said KidronBethel Village Executive Director Linda Peters.
A rewarding part of the campaign planning involved a collaborative process with Bethel College to define the education center, which will be used for college classes as well as for community and internal use.
"Bethel College President Jon Gering has worked with us in multiple ways to help develop this innovative plan of college classes on the campus of a life plan community that will enhance learning for college students and residents through intergenerational connection," said Krehbiel.
Fundraising is expected to continue through early fall 2021 with construction beginning later in the fall of 2021 and completion of the project in spring 2023.
"Our fundraising team of Kris White, Yvonne Sieber, Julie Miller-Steiner and myself are grateful to the many generous donors during the quiet phase of this campaign, and now with the Mabee Foundation challenge grant, we have $1.3 million to raise in the next year," said Vice President of Fund Advancement Derek Yoder. "We appreciate our helpful and engaged Live Forward Campaign Steering Committee members in helping to drive this campaignforward."
Steering committee members include Committee Chair Bob Nattier, Barbara Bunting, Connie Claassen, John Claassen, Lois Friesen, Ray Penner, Virgil Penner, Jim Juhnke, Miriam Nofsinger, Twila Schrock and Velma Teichroew.
Kidron Bethel Village is a life plan community of Bluestem Communities that provides residential independent living, assisted living and health care homes and services with personalized care with Christian compassion. To learn more, visit bluestemks.org.
Donations can be made at kidronbethel.org/liveforward.