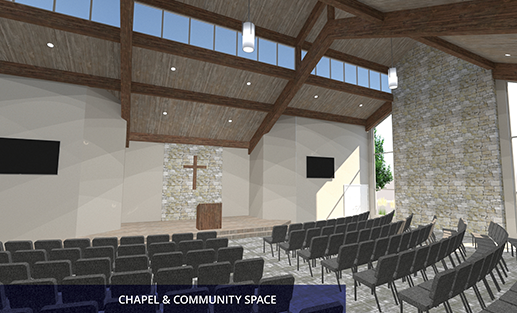 Live Forward project focuses on collaboration and community engagement
February, 02, 2021
Live Forward project focuses on collaboration and community engagement
NORTH NEWTON, Kan. – On the most typical of days at Kidron Bethel Village, you will find a unique blend of relationships interacting with and learning from one another. Working-age adults, along with college and high school students all come together in a variety of roles serving their elders. At times, younger volunteers are also added to the mix to bring special entertainment and beneficial connections.
With relationships top of mind, Kidron will soon increase its ability to foster community and intergenerational connections through comprehensive facility enhancements that are part of its Live Forward campaign. Among the highlights are an expanded chapel and multipurpose community space and a new education center, both of which will allow Kidron to more efficiently host campus and community events.
"Kidron Bethel Village is an engaging community that adds so much value to the life experiences for people of all ages," said James Krehbiel, President and CEO of Bluestem Communities. "Our goal is to have a positive impact on quality of life for every individual who lives here, works here or is our guest."
One of the joys and benefits of living at Kidron is its close proximity to Bethel College. Students in staff roles, volunteer arrangements and social events allow the groups to connect more informally. Likewise, the college hosts Kidron residents for various events including its annual Life Enrichment series that provides learning opportunities for those aged 60 and better.
"Anywhere from 150 to 200 of our students work at Kidron every year," said Bethel College President Jon Gering. "That's part of our goal to become a work college and have gainful employment for every student. We're very glad that Kidron is a partner in that process."
The new Education Center at Kidron – a 60-seat classroom that can be divided into two smaller 30-seat classrooms – will address educational needs and interests for both demographics and offer continued intergenerational connections.
"A really unique part of this project is our collaboration with Bethel College," said Linda Peters, Kidron Bethel Village Executive Director. "The fact that we're going to have college students on our campus every day is really exciting for the residents. They love to connect with college students and engage with younger people in general."
Another important aspect of life at Kidron is the numerous gatherings for regular worship, group meetings, holiday services and other special events. When initially constructed in 1991, the current chapel was designed with a capacity of 80 individuals. The new chapel and community space will seat approximately 200 and will serve in multiple ways on a daily basis.
"It's exciting to think about a space for events that will easily accommodate a large group of people for our resident population and the broader community," said Chaplain Eric Massanari. "Even though it will be larger than what we currently have, we're really intending to create a space that also will have flexibility and be able to accommodate a smaller-size group with warmth and a welcome spirit."
The Live Forward enhancements will have beneficial impacts to our Kidron campus and local community for generations to come. "This is not just a brick and mortar project to create necessary space," said Peters. "It's a project that supports programming and activities and events that can help to create a better life for the whole community."
###
Kidron Bethel Village is a non-profit life plan community of Bluestem Communities that provides residential independent living, assisted living and health care homes and services with personalized care with Christian compassion. To learn more, visit bluestemks.org.
Photo by Alloy Architecture.
Caption: An architect's rendering shows what the new Kidron Bethel Village chapel space will look like. The chapel space, which will more than double available seating, is one of several spaces part of the facility's Live Forward project that will provide functional spaces for the campus community to come together with the wider community.