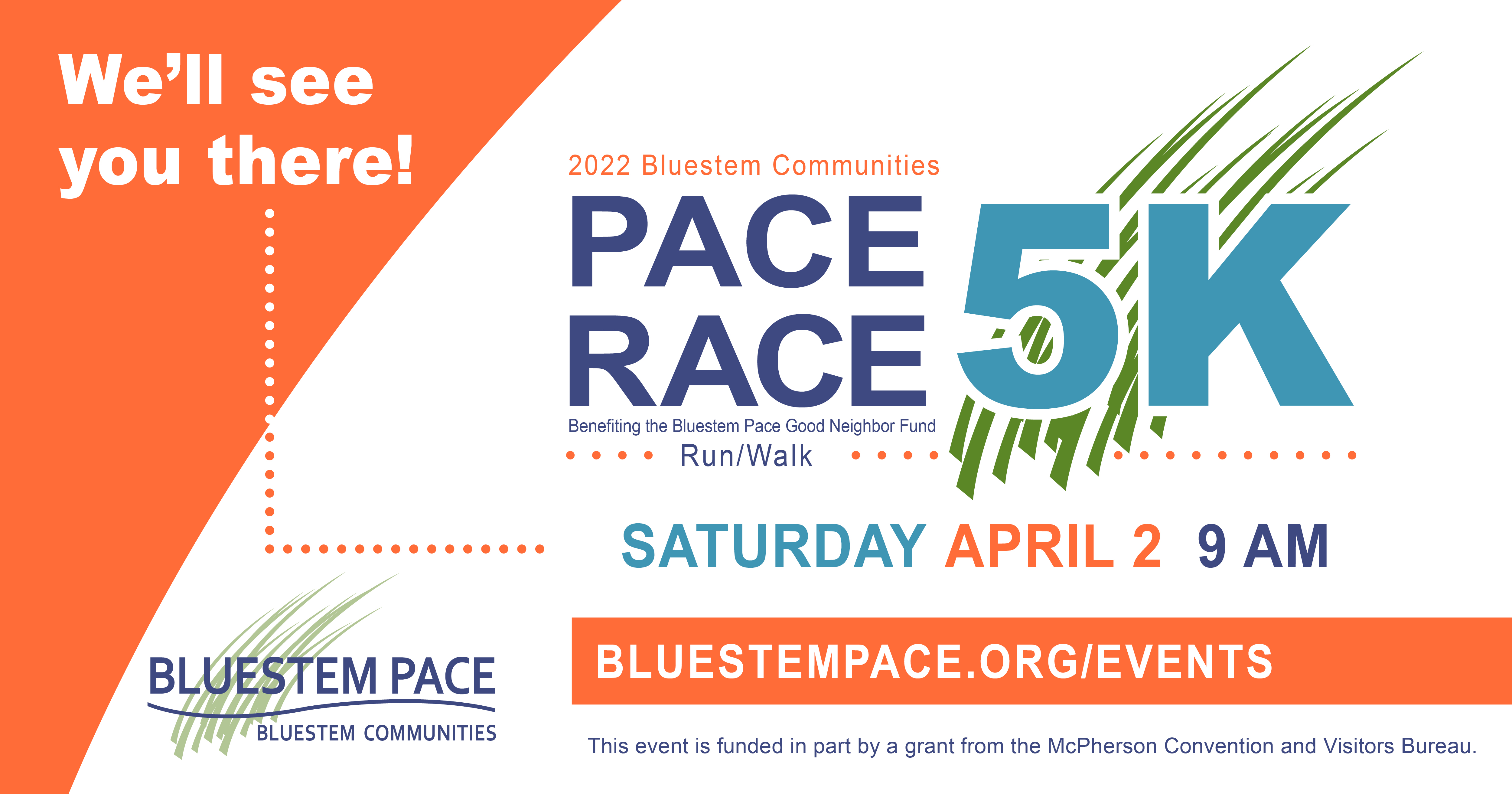 Local businesses support Bluestem PACE annual 5K walk/run
March, 28, 2022
MCPHERSON, Kan.—A host of local businesses have stepped up to support Bluestem PACE's annual PACE Race 5K walk/run this Saturday, April 2, allowing 100 percent of the race proceeds to benefit medical and personal services for community seniors.
"We are blown away by the support of the community that recognizes the benefits of PACE services for the seniors living in the local area," said Sheryl Dossett, Bluestem PACE fund advancement associate. "The support of each of our sponsors allows us to provide more resources to PACE participants and continue offering them the best, personalized care possible."
Sponsors include McPherson Convention & Vistor's Bureau; McPherson Dental; Turkey Creek Golf Course; Mead's Liquor; Bello Capelli Salon; Hillsboro Hometown Pharmacy; Legacy Eyecare; McPherson Concrete Products; Mid-Kansas Cylinder Head; Prairie Landworks; Sonic; Three Rings Brewery; Farmers Alliance Insurance; Home & Wellness; Home State Bank; Midway Motors; People's Bank and Trust; Stupka Chiropractic & Wellness Center, LLC; Compass Realty; McPherson Quality Air; MTC; Graber's Ace Hardware; Krehbiel Meats; Brown's Shoe Fit; Genesis; Heartbeat Coffee; Fastenal; Tammy's Country Catering; Cook's Nook; Pink Flamingo; A5 Western; Culligan Water; Johns Manville; First Bank Kansas; Vanguard Properties of McPherson, LLC; and Emprise Bank.
With its primary location in McPherson and an alternative care site in Hutchinson, Bluestem PACE (Program of All-Inclusive Care for the Elderly) is a nonprofit dedicated to helping those aged 55 and better live well at home. Seniors in a six-county south central Kansas region enroll with Bluestem PACE to receive integrated care all from one source, including medical, social, physical and personal care.
Proceeds from the PACE Race, now in its fifth year, benefit the Bluestem PACE Good Neighbor Fund, which provides financial assistance to program participants in the event of unexpected circumstances, and assists Bluestem PACE in providing highly coordinated, integrated medical care and other services for seniors.
The Bluestem PACE Race will begin at 9 a.m. from the Bluestem PACE center at 113 S. Ash St., in McPherson, and wind through the McPherson community. On-site registration is welcomed from 7:30 to 8:30 a.m. Registration is $35. Pre-registered racers can also pick up their packets at that time.
The first-place finisher in the men's and women's categories will receive a gift certificate from Brown's Shoe Fit for up to $180 towards Hoka shoes.
###
About Bluestem Communities
Bluestem Communities is a nonprofit organization in central Kansas made up of several retirement communities and programs dedicated to serving seniors. For more information, visit us online at bluestemks.org.