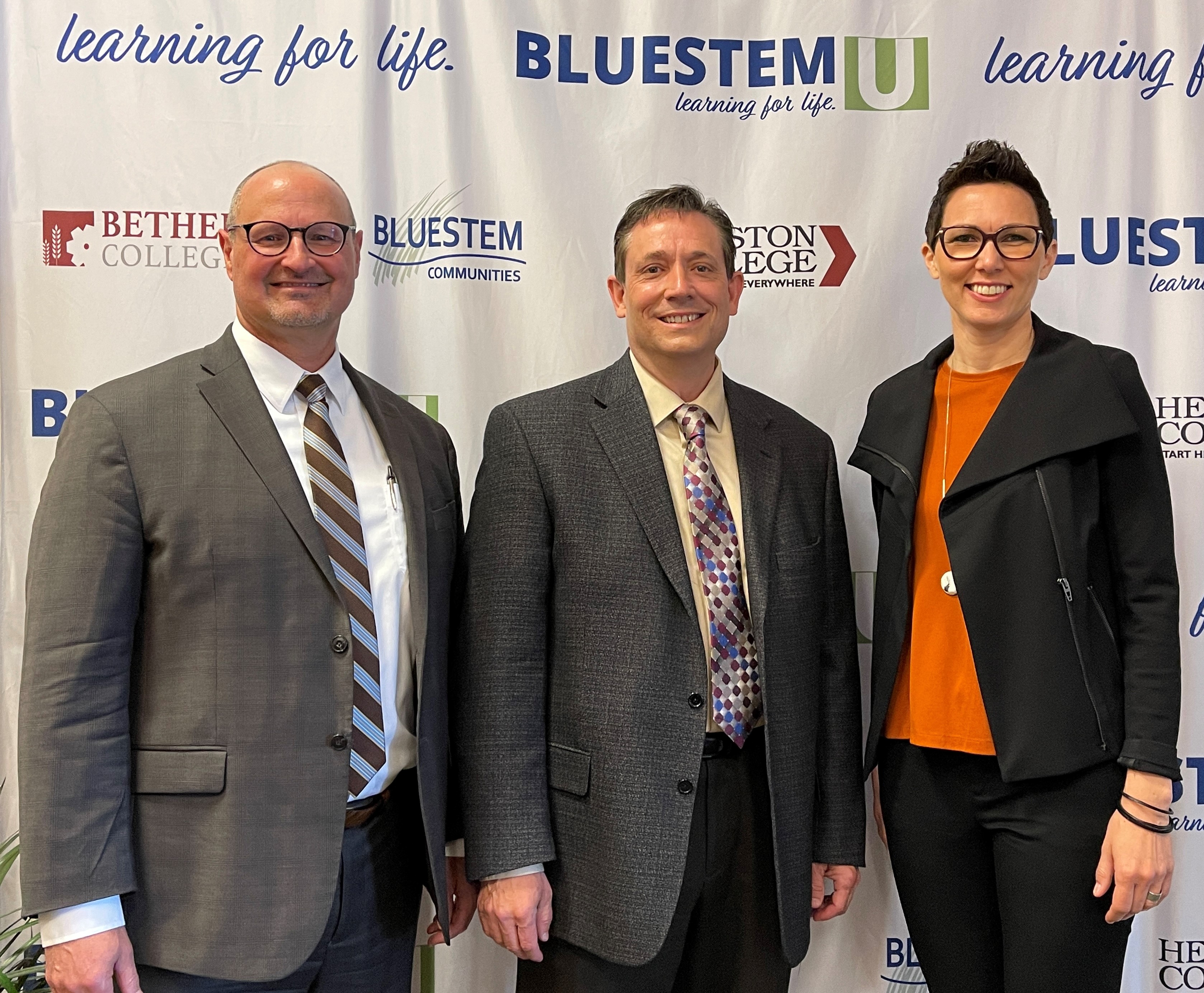 Local organizations partner for lifelong learning program
April, 26, 2022
NORTH NEWTON, Kan. – Bluestem Communities, Bethel College and Hesston College have announced a partnership to bring important lifelong learning opportunities to residents in the region and beyond. The new program is called Bluestem U.
Bluestem U seeks to provide lifelong learning opportunities for those 55 and better. Some courses will also be available via Zoom so participants outside the area can participate. Bluestem U will launch its inaugural semester in September 2022.
Bluestem U will offer enhanced quality of life through the joy of learning and social interaction. Courses will vary each semester and be taught by former and current instructors from Bethel College and Hesston College and community experts. Course topics will include subjects such as history, creation care, spirituality, psychology, arts, wellness and technology.
"We are excited to offer this program that will open our campuses to the community and to those who want to learn more about specific areas of interest," said Ariana Kauffman, Bluestem Communities vice president of marketing and communications. "We are looking forward to working in collaboration with our neighbors at Bethel College and Hesston College to create professional and meaningful programs and experiences for the participants."
Bluestem U kicks off with a Fall 2022 semester hosted by Schowalter Villa and Hesston College, followed by a Spring 2023 semester with Kidron Bethel Village and Bethel College. Each semester will offer several four- to eight-week courses for $50 per semester course. Classes will be held on the Bluestem Communities campuses, and class times may be during the day or evening based on the instructors' schedules.
For more information about Bluestem U and available courses, visit BluestemU.org or email Learning@BluestemU.org.
###
About Bluestem Communities
Bluestem Communities is a nonprofit organization in south central Kansas made up of several retirement communities and programs dedicated to serving those 55 and better. For more information, visit bluestemks.org.
About Bethel College
As the first Mennonite college founded in North America, Bethel College celebrates a tradition of progressive Christian liberal arts education, diversity within community and lifelong learning.
About Hesston College
Hesston College is a Christ-centered community where each student is educated and nurtured academically, socially and spiritually. They have been providing top-notch education to college students from around the world since 1909.