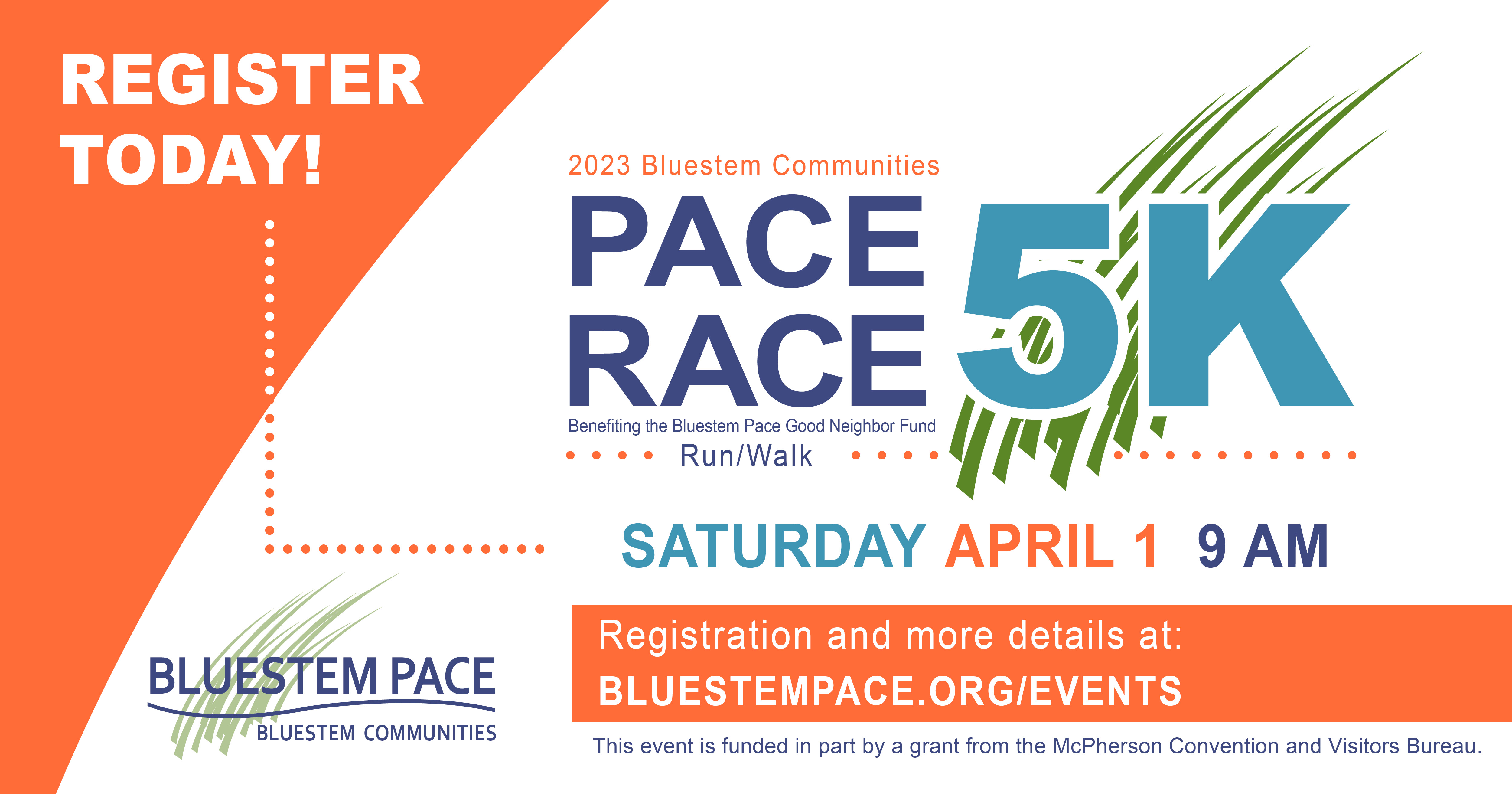 Registration open for annual Bluestem PACE Race 5K run/walk 2023
January, 20, 2023
MCPHERSON, Kansas—Bluestem PACE, a nonprofit dedicated to helping seniors live well at home, will host its annual 5K run/walk on Saturday, April 1, at 9 a.m. in McPherson, Kan. Those interested in registering for the PACE Race can do so at bluestemks.org/events. Registration is $30 by Feb. 15 and includes a race t-shirt. After Feb. 15, registration increases to $35.
The PACE Race is a flat course that begins and ends near the Bluestem PACE McPherson location at 113 S. Ash Street. The route winds through the central part of the McPherson community.
The 2023 PACE Race marks the sixth year for the event, which benefits the Bluestem PACE Good Neighbor Fund. Bluestem PACE (Program of All-Inclusive Care for the Elderly) is a non-profit organization that supports individuals aged 55 and better who require comprehensive medical care while continuing to live in their own homes. The Bluestem PACE Good Neighbor Fund provides financial assistance to program participants in the event of unexpected circumstances, and assists Bluestem PACE in providing the highly coordinated, integrated medical, social, physical and personal care.
With the primary location in McPherson and an alternative care site in Hutchinson, Bluestem PACE serves seniors in a six-county south central Kansas region of McPherson, Reno, Harvey, Marion, Rice and Saline counties.
"We're so grateful for the support of the communities in which Bluestem PACE participants live as we all work together to support them and help seniors remain living in their homes for as long as possible," said Justin Loewen, executive director of Bluestem PACE.
The 2023 Bluestem PACE Race is funded in part by a grant from the McPherson Convention and Visitor's Center, as well as other local businesses and individuals.
"The support of each of our sponsors allows us to provide more resources to PACE participants and continue offering them the best, personalized care possible," said Sheryl Dossett, Bluestem PACE fund advancement associate.
Race sponsorship options are still available. Contact Sheryl Dossett at sheryld@bluestemks.org for more information about becoming a sponsor.
###
About Bluestem PACE
Bluestem PACE is a program of Bluestem Communities, a nonprofit organization in south central Kansas that serves seniors through care-centered services, care settings and living options. Visit bluestempace.org.