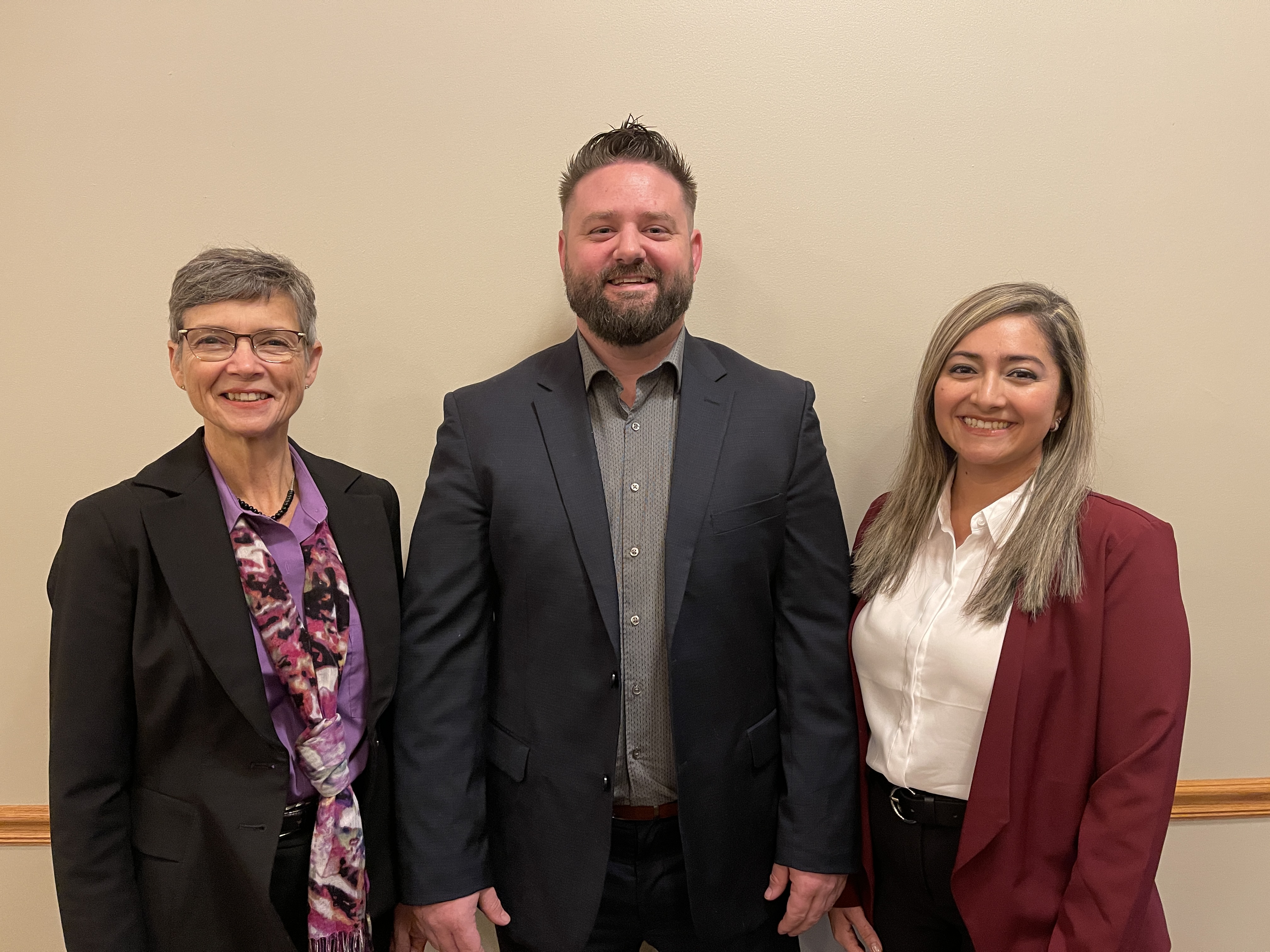 Schowalter Villa announces leadership transitions
November, 23, 2022
HESSTON, Kan. – Bluestem Communities' Schowalter Villa life plan community is preparing for a series of leadership transitions through internal promotions that will be finalized in early 2023.
After 14 years in leadership at Schowalter Villa, Treva Greaser, BSN, RN, CRRN, C-NE, announced her resignation effective January 6, 2023. Greaser transitioned from Vice President of Health Services to the executive director role at Schowalter Villa as the life plan community merged with its counterpart, Kidron Bethel Village in North Newton, Kan., in 2012 to form Bluestem Communities.
"Treva has been a tremendous asset to Schowalter Villa and Bluestem Communities over these last 14 years," said James Krehbiel, Bluestem Communities President and CEO. "She helped create a smooth merger with Kidron Bethel Village 10 years ago, and exemplified outstanding leadership in navigating the complexities and ever-changing guidance of the COVID-19 pandemic. Treva has been instrumental in increasing Schowalter Villa's success and continued excellent reputation for life plan communities. We wish her all the best in her future professional endeavors."
During Greaser's tenure, Schowalter Villa has won numerous awards for quality and excellent care services. Most recently, Greaser and her team helped Schowalter Villa earn the 2002-23 PEAK Award for Sustained Person-Centered Care Homes – Level 4 from the Kansas Department for Aging and Disability Services (KDADS). She has also led Schowalter Villa to multiple 5-star quality ratings with the Centers for Medicare and Medicaid Services (CMS), and has led the staff through several deficiency-free surveys, including throughout the pandemic.
"It's been an honor to be a part of the Schowalter Villa team and to serve residents," Greaser said. "I have built wonderful, meaningful relationships with both residents and staff, and leaving those relationships will be difficult. I am looking forward to new opportunities and continuing to use the knowledge and skills that have developed during my time here. Schowalter Villa has a strong team of staff, and I am confident that it will continue to thrive under new leadership."
Succeeding Greaser as Executive Director will be Jeff Ritcha, BSN, RN, MBA, who most recently has served Schowalter Villa as Director of Nursing.
Ritcha as served at Schowalter Villa since April 2008 in a variety of roles in addition to Director of Nursing, including charge nurse and neighborhood nurse manager. As Greaser took on additional responsibilities in the past year, Ritcha provided support for the Executive Director role.
"Jeff has demonstrated strong leadership and care for residents in his time at Schowalter Villa, and we are excited to welcome him to this leadership role for Schowalter Villa and Bluestem Communities," said Krehbiel.
Ritcha earned an Associate's Degree in Nursing (ADN) and a Bachelor's Degree in Nursing (BSN) from Hesston College, as well as a Master's in Business Administration (MBA) from Emporia (Kan.) State University. Ritcha also holds a nursing home administrator license.
"I am looking forward to building on the strengths of Schowalter Villa and continuing the high quality of care that we are known for," said Ritcha. "It's a blessing to step into this position of leadership with such a strong team, and to provide the best care possible for the residents we serve."
Moving into the vacated Director of Nursing role will be Yeimi De La Mora, ADN, who has served at Showalter Villa since November 2010 in a variety of roles including Certified Nurse Aide (CNA), Certified Medication Aide (CMA), charge nurse and Neighborhood Case Manager. Over the last several months, De La Mora has assisted Ritcha with coverage of the Director Nursing role.
"Yeimi has displayed a strong ability to create quality relationships with residents and co-workers, and we are excited to have her step into this next level of leadership," said Krehbiel.
De La Mora holds an Associate's Degree in Nursing from Butler Community College (El Dorado, Kan.) and is in progress toward a Bachelor's of Science in Nursing from Wichita (Kan.) State University. She previously earned a Licensed Practical Nurse (LPN) degree from Hutchinson (Kan.) Community College.
"I am thankful to be part of an amazing team at Schowalter Villa that not only cares about providing exceptional care to residents, but also gives employees educational and career development opportunities," said De La Mora. "It is an honor for me to transition into this leadership role in which I can lead the team to continue carrying out the mission of the organization and cultivate meaningful relationships with residents, families and staff."
Schowalter Villa is one of the communities comprising Bluestem Communities, a non-profit organization that serves seniors through various living options, care settings and care-centered services. The Schowalter Villa life plan community offers living options for independent living, assisted living and skilled health care, as well as the Progressive Recovery Academy program for individuals needing short-term care following hospitalization and rehabilitation.
Other communities comprising Bluestem Communities are Bluestem PACE (Programs of All-Inclusive Care for the Elderly) in McPherson and Hutchinson, which provides services to older adults, allowing them to stay living in their own homes for as long as possible, and the Kidron Bethel Village life plan community in North Newton.
###
About Bluestem Communities
Bluestem Communities is a nonprofit organization in south central Kansas that serves seniors through various living options, care settings and care-centered services. Visit bluestemks.org.
Photo caption: Bluestem Communities' Schowalter Villa in Hesston is beginning a period of leadership transition. Treva Greaser, Executive Director, (left) will wrap up 14 years of leadership in early January, and will be succeeded by Jeff Ritcha, current Director of Nursing (middle). The Director of Nursing role will be filled by Yeimi De La Mora (right), who has served Schowalter Villa in a variety of roles for 12 years.